Getting Started with Aspen Graphics
We encourage all new users to take advantage of our free New User Tutorial.
This one-on-one session with an Aspen Trainer helps ensure that you'll get the most out of Aspen Graphics. 
If you haven't done so already, please schedule your tutorial through your local Aspen Research office. 
For the location of the Aspen Research office nearest you, click here.
To customize the look and feel of Aspen Graphics, see The New Look of Aspen 4.0.  For the purpose of this document,
titlebars and scrollbars are not displayed in individual windows, and Window's style menus have been selected.
Begin viewing data in Aspen Graphics by selecting File / New Window and choosing a window.
Charts show how live data relates to historical values, and are used to graph indicators.
Quote windows show the most recent numerical values.
News windows allow you to view headlines, filter for keywords and read news stories.
Equity windows allow you to keep track of your portfolio in real-time.
Time and Sales windows allow you to follow every price sent by the data provider.
Clocks monitor the time in various parts of the world.
Price/Volume windows display the volume at different prices in the familiar Market Profile© histogram.  
Option Charts and Volatility Skews are available by subscription to our Aspen Optionalysis options package.
More… takes you to windows you have already customized and saved.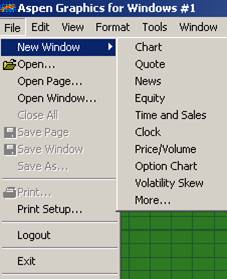 Windows are the templates you use to build a custom screen layout, or Page. 
Windows overlay whatever you have in your Aspen workspace; Pages clear the workspace before displaying your customized screen layout.
Tip!  The

  and

 icons increase & decrease the font size in the window in which you're working.
The rest of the toolbar is dynamic; the icons change with the type of window in which you are working.